In the world of extreme sports, kayaking is right up there with bungee jumping. An activity best done with an over-abundance of caution and careful attention paid to detail when it comes to safety measures. With all these in mind, Malibu Kayaks has engineered the X-Caliber Fish and Dive Kayak for persons considering themselves to be "adventurous intermediate kayakers".
The X-Caliber Kayak boasts a unique hull shape designed for the comfort of the kayaker. It is 381cm long and 79cm wide, with a depth of 30cm and has seating for 1-2 persons. The hull weighs 24 kg and the X-Caliber has a maximum capacity of 181kg.
It features include a bow and stern handle for easy transport to and from the water, a new and improved Gator Hatch V.3, adjustable foot rests, side bungee handles with paddle holders on both sides, a Center Rectangular Hatch, a Transducer Hull to help you find the right fishing spot, Trolling Motor Mount inserts, Rear Rod Holders for attaching your favourite fishing rods, Rear Bungee Storage, a Drain Plug, and even Cup Holders.
The X-Caliber was designed for use on day trips and also for long excursions. This is a great kayak for fishing since its semi flat bottom allows for increased manoeuvrability. The new and improved Gator Hatch V.3 has a child sized seating space which lifts easily for access to a dry compartment. This part can also be lifted, to provide the kayaker with another large storage space which can be used for anything from gear to their catch. On the off chance that more storage is needed, this tray is also removable to allow the kayaker to use the hull for storage.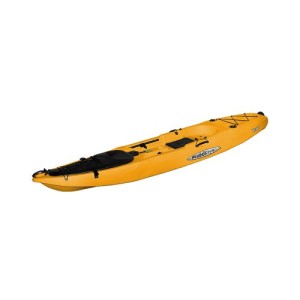 Malibu's X-Caliber Kayak comes in a variety of bright cheerful colours namely Mango, Lime, White, Yellow, Blue, Green, Red, and Sand. For a more creativity, they also come in a variety of camouflage colours namely Desert, Winter, Atomic, Midnight, Woodland, Lava and Solar.
Since 1999 Malibu Kayaks has introduced kayaks to the fishing world specifically designed to provide kayakers with increased stability, versatility and storage capacity. They consider themselves a company on a journey and list their ultimate goal as "bridging the gap between the canoer and the kayaker". Though starting out initially as a retail company, they have since made the move to manufacturer and have produced both "sit on top" and "sit inside" kayaks.